With the help of other members of the Riedmann family we have collected the names of the other ancestors of Georg and Magdalena Riedmann. Georg and Magdalena had 6 children:
Alfred, born May 30, 1895
Matilda (Tillie), born December 25, 1897
Louis, born March 4, 1899
Anna, born – 1903?
Amelia (Millie), born June 18, 1902
Margaret, born August 17, 1915
Unfortunately Anna passed away in 1911 when she was only 9 years old and Margaret passed away in 1925 at the age of 10. The remaining four children produced a very large family. You are able to view Alfred's family by going to Al's Descendants. To see the descendant of the other children you can click on the names below to see the names that we have accumulated.
Georg and Lena lived at several addresses before settling in at 411 Walnut St. in South Omaha, six blocks from where Alfred would raise his family. Through the Omaha City Directory records kept by the Douglas County Historical Society it has been learned that Georg held many jobs in the early years of living in Omaha. Those known include: In 1896 he worked for Metz Brewery at 6th & Leavenworth, in 1900 he worked for The Omaha Brewing Association, which later became Storz Brewing, on north 16th St.; in 1903 he worked for Krug Brewery in South Omaha; and in 1907 he worked for Willow Springs Brewery at 3rd & Hickory. It is not known how long he worked at Willow Springs, why he changed jobs so often or why he worked in the brewing industry at all. It is also not known if this played a part in his son Alfred later working for Willow Springs. Perhaps coincidentally, or not, his other brother Adam worked for Metz Brewery in 1907.
The family trees will be updated periodically as we receive more information. Stories may be added too.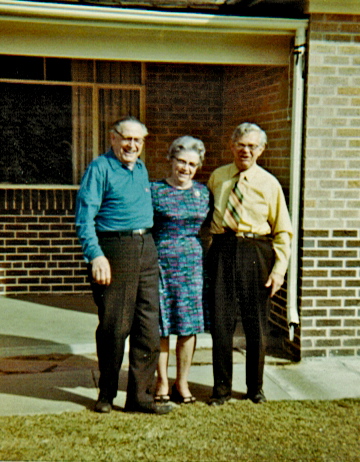 For the family trees of these families go to these pages:
Matilda (Tillie), married Charles Prchal
Louis Michael (Lou), married Josephine Palupa
Amelia (Millie), married Walter Astleford, then Raymond Mead
More information is posted on the family Introduction page.
Thanks go to Irene Van Moorleghem, Bob and Thomas Prchal, Gerald Rashke and Helen Griffin who gave me great help with the information you see.